Banking on Cooperative Values
WE BELONG
Banking on Cooperative Values
WE BELONG
Banking on Cooperative Values
WE BELONG
Banking on Cooperative Values
WE BELONG
A roadmap to turn our confederation into a community by a shared purpose, rooted on coop values and on an inspiring vision. A community, better than any organization, can leverage the network effect by expanding our collaboration with other organizations that share our values and principles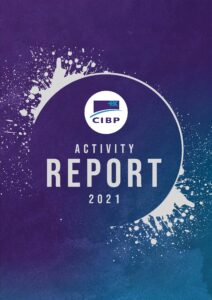 CIBP Activity Report 2021
Coffee with the President, Mr Marco Almada, President SICOOB
Marco Almada, SICOOB (Brazil) President's, shares his view on CIBP's strength and the Global Network added-value for the CIBP members' Employees and network.
Université des Administrateurs on 21-22 October 2021: FNBP / SICOOB cooperation
Marco Almada, SICOOB (Brazil) President's speech to the French Board members in Strasbourg.
André Joffre's, Chairman of the National Federation of Banques Populaires, thank you words: The 5th University of Administrators took place under the sign of conviviality and openness to Europe. Two days were nourished by a strong community of speakers helping the guests to better understand the challenges ahead.
The cooperative nature gives a head start, a natural force that forges our style, establishes our difference, and wins the preference of our customers.
It is our individual and even more collective and cooperative intelligence that allows us to stay on course, always the same: have our Banques Populaires continuously evolve at the service of their members, their employees and their territories.
Finally, our plurality, a reflection of the originality and quality of the governance of our banks, promotes mutual enrichment and openness to the world.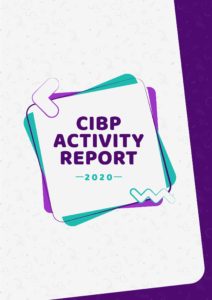 CIBP Activity Report 2020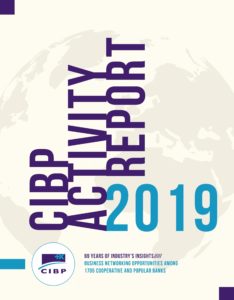 CIBP Activity Report 2019
CIBP | 70th Anniversary 1950-2020
In 1949, Pierre Montfajon (President of Crédit Populaire de France) had a European vision of the role that the Banques Populaires could play, so he set up the International Confederation of Credit Populaire (CICP) and became its President. The idea for Popular banks to confederate was thus precursor of the European Union.
Big Thank you to the inspiring presidents and other leaders who reinforce the best practices to be put in place to better serve their stakeholders.
Cooperative and popular banks members are the ones still today to uplift the self-help and social responsibility values, and to develop their region and local businesses.
They highly contribute to the ideals of the cooperative business model as an answer to the economy. In the new era, CIBP stays relevant in the promotion of popular banks cooperative values and achievements worldwide.
CIBP | Executive committee meeting 2019
On Friday 29th March took place in Brussels, the 2019 CIBP Executive Committee meeting and General Assembly. The event, was  chaired and hosted by President Alain Declercq
CIBP | Executive committee meeting 2018
On Friday 20 April took place in Buenos Aires, the 2018 CIBP Executive Committee meeting and General Assembly. The event, Chaired by CIBP President Alain Declercq, was hosted by Banco Credicoop Argentina.
The co-operative Idea Belief shared by the Volksbanken Raiffeisenbanken
'What can´t be done alone, can be done together".
This belief held by their founders Friedrich Wilhelm Raiffeisen and Hermann Schulze-Delitzsch has been shared by mutual banks, such as the local cooperative banks, for more than 160 years. Watch the film to see how the cooperative principle has grown and why it still remains topical today.
https://www.vr.de/privatkunden/informationsseite/englisch.html