On Friday 20 April took place in Buenos Aires, the 2018 CIBP Executive Committee meeting and General Assembly. The event, Chaired by CIBP President Alain Declercq, was hosted by Banco Credicoop Argentina.
The occasion allowed our members to better understand the Argentinean cooperative movement through the experience and purpose of Banco Credicoop; a unique institution in the country, at the service of the development of the Argentinean society.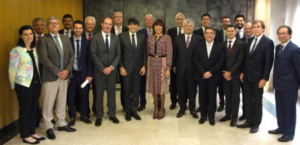 We also had the opportunity  to present and discuss the CIBP Action Plan for the next 3 years. The main objectives of the action plan are:
– Create value for members
– Reshape the way members interact and exchange knowledge
To achieve these objectives, the CIBP Action Plan is focused on Technology Innovation serving a Social Purpose. The plan, which was endorsed by our members, is organized in 4 pillars.
We inspire:
What is it? Raising awareness about how cooperative banks impact society positively through storytelling videos anyone can create.
We share:
What is it? Firing up and facilitating discussions within the CIBP network connecting the right people from our network when they need to exchange knowledge in a direct and objective way through an online meeting. What we have called SPARK is just a structured online meeting organized by CIBP team for member banks to share points of view around any topic.
We co-create:
What is it? A project to capture and summarize fragmented knowledge within CIBP network resulting in studies to inspire and provide tools/content for each member to use internally.
We belong:
What is it? A roadmap to increase the sense of belonging to the cooperative community. This means identifying potential cooperative organizations and organizing exchanges to share agendas. Such activity might result in identifying potential areas of common cooperation and partnership opportunities for CIBP and its members.
Besides the above it was a unique opportunity to get members together to strengthening bonds and to keep working as a Community for the development of Cooperatives Institutions.